Ridley Engineering Distinguished Lecture Series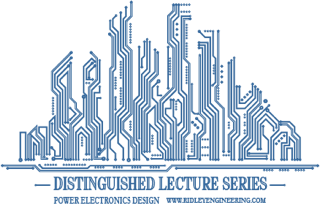 May 17, 2017
Teledyne LeCroy
3385 Scott Boulevard
Santa Clara, California 95054
Speaker: Dr. Ray Ridley
Time: 9 am - 5pm
Fee: $199
Morning Lecture: Modern Topologies
The power supply industry has undergone a revolution over the last decade. Quantum leaps in efficiency, power density and packaging have altered the landscape and shifted methodology. At the heart of this revolution are power stage topologies and switching techniques—both old and new.
Dr. Ray Ridley will present current techniques and how the combination of topologies, switching strategies, and new devices are leading the industry into the future.
Afternoon Lecture: Modern Magnetics Design
Transformer design began in 1831 with Faraday's first toroid. Almost two centuries later, only a small percentage of engineers fully comprehend and implement the equations in transformer design. Learn simple techniques that make modern design fast and efficient.
In this lecture, Dr. Ridley discusses the future of magnetics design for high-frequency power supplies and how to maximize today's designs. Lecture attendees will learn advanced concepts and gain powerful analytical tools for immediate design application.
Free Copy of POWER 4-5-6 Release 10 + SPICELaunch™
Each attendee will receive a one-year licence for POWER 4-5-6, Release 10 + SPICELaunchTM. With a retail value of $500, licenses are provided during the lecture series to introduce the powerful new features in Release 10.
Developed by Dr. Ray Ridley in 1991, POWER 4-5-6 is the industry standard for power supply design software. After twenty-five years of continuous improvement, the software now automates power supply design by embedding all necessary equations, functions, and design considerations into a single package.
POWER 4-5-6 does a complete power stage and control design for 12 PWM topologies most commonly used in the industry. It is the only tool available on the market that chooses power stage elements, designs the control loop with voltage- or current-mode control, generates accurate circuit models for proximity loss, and provides detailed magnetics component design. All designs are verified with instantaneous large-signal simulations. With SPICELaunch™, you can now export schematics directly into LTSPICE with a single click.



Cancellation Policy
Registration is non-refundable. Software is issued by email link prior to the event date and active until the day after the lecture. A one-year license term ($500 value) is added on that date with validation of lecture attendance.