POWER 4-5-6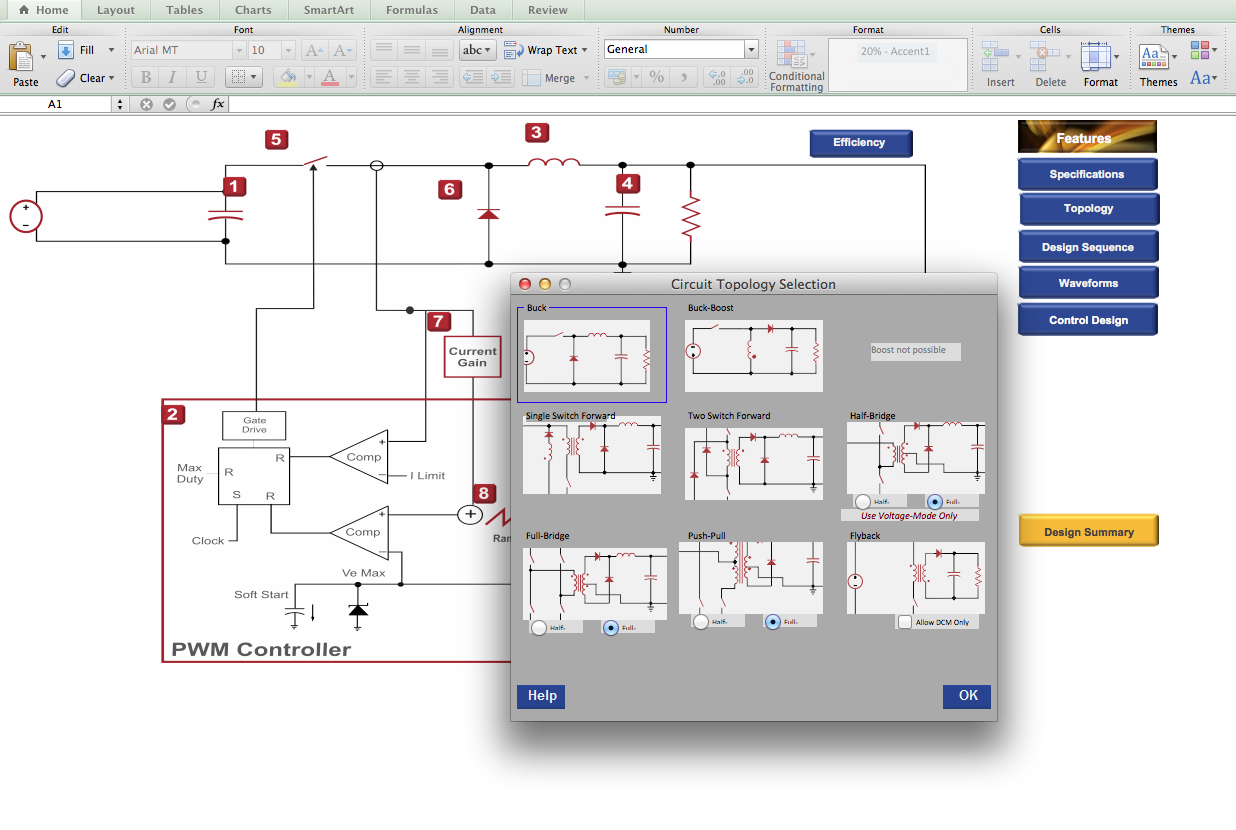 POWER 4-5-6 is the only switching power supply design program that provides component design, large-signal simulation, feedback control design, and small signal analysis in one package. It is an Excel-based program with interactive controls and pop-up menus for easy data entry and analysis. The software resides on your computer, keeping sensitive designs confidential. Design, simulate and analyze a new converter in seconds. Compare different topologies regardless of the controller and manufacturer's parts used. Test power stages with fully automated closed-loop operation.
Experience the industry's only independent magnetics design tool. With POWER 4-5-6, you can incorporate standard magnetics designs or create complex designs. Regardless, your implementation of magnetics on the board will be enhanced, and problems minimized.
The latest release includes 12 real-world power stage topologies: Buck, Forward with reset winding, Two-Switch Forward, Half-Bridge with Center-Tap or Full-Wave Secondary, Full-Bridge with Center-Tap or Full-Wave Secondary, Push-Pull with Center-Tap or Full-Wave Secondary, Boost, Buck-Boost, and Flyback with multiple outputs.
LEVELS
There are three levels of application for this software. These levels are commensurate with experience and stage of the design to help achieve the greatest value from without the burden of knowing the equations involved in arriving at the solution. Regardless of your design experience, POWER 4-5-6 offers the ability to check and cross-check all parameters and results. Stop at any time during the process and view resulting waveforms and control parameters. In addition, there are extensive help files available on every screen.
Level 1 Basic
This level, simply input the power requirements for your circuit. When you click "OK", the entire converter, including control loop, is designed for you. The components are chosen based on the data input. Hardware can be generated with confidence with these working values.


Level 2 Intermediate
Level two designers have design experience and want to input their knowledge as the design progresses. They want to understand and further optimize the design. At this level, you will look carefully at the selected values from POWER 4-5-6, and change some of them to improve the design.
Level 3 Advanced
Level three designers not only know how to design an effective power supply— they know how to get maximum performance out of a power system for very specific applications. They have a library of preferred parts that work well for their applications, and use these to fully optimize the design.


FEATURES
No internet connection needed – work where and when you want
Exact cycle-by-cycle simulation - 400 cycles of closed-loop operation simulated instantaneously
Input AC design and simulator for input capacitor
Output filter includes single output capacitor, dual output capacitor, or CLC filter for maximum noise attenuation
Snubber designer including RCD snubber for flyback converter
Control loop designer for CCM, DCM, current-mode and voltage-mode control
Full output impedance analysis with voltage-mode, current-mode, and second-stage output filter
Magnetics designer with core library and facility to quickly add preferred cores
Magnetics proximity loss designer including split windings, multiple layers and foil windings
EMI input filter designer with impedance interaction analysis
Full integration with AP Instruments' Frequency Response Analyzer to verify component designs with predictions and quickly update simulations with real component values
Efficiency in simulating all converters - run as a standalone, or with the AP300 Transformer, inductor, and capacitor measurement interface to verify hardware designs
Power stage designer for all power components
Stress and loss analysis for all power components