[022] Always Measure the Switch Current to Ensure Power Supply Reliability
The main switch current of a converter should always be measured to ensure that the converter is operating properly.
Introduction
In an article in June 2007, I wrote about the failure mechanisms of switching power supplies [1]. Almost always, at the heart of the failure, is the power FET. While it is not always the root cause of the failure, it rarely survives, and the failure can be quite dramatic.
Most designers are careful to look at the voltage waveforms on the FET, and this is mentioned as a source of failure of a power supply in [1]. However, many power supplies that I see have no record of current measurement, and this means that engineers often miss impending problems in their designs. The current is not always convenient or easy to measure, but you should always make the effort to look at it. This article gives some tips on making current measurements.
Current Sensing for an Offline Flyback Converter
Figure 1 shows a typical offline flyback converter with an integrated controller. On the primary side, an RCD snubber is used to clamp the voltage peak waveform on the power FET. Application notes often show this waveform under all different conditions, including overcurrent and shutdown mode.
The RCD snubber provides a very effective clamp, and even in cases where there is severe overcurrent in the switch, the effect will not be shown in the voltage across the FET. It is crucial to look at the current in the FET directly to make sure the power supply design is rugged under all conditions.
There is no direct current measurement point available in this schematic. Current sensing is done internally in the power supply controller. In order to measure the current, the circuit traces must be broken at either point A, B, or C. (Conventional lab techniques use a current probe at one of these points, but these are often too large and their inclusion in the circuit can affect the waveforms. In some cases, this can even cause failure of the power supply. )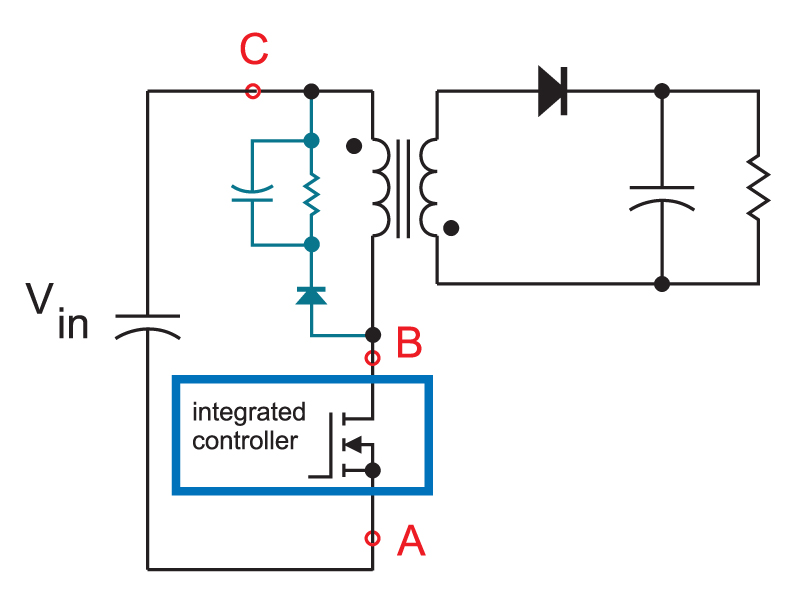 Figure 1: Flyback converter with integrated controller. No current measurement point is immediately available.
If you don't have a suitably small current probe, you can insert sensing elements in the circuit to accurately measure the current. Figure 2 shows a current sense resistor at point A in the circuit, connected to the source of the FET. If your power supply design does not already have this resistor in the schematic, this is NOT a recommended approach. Integrated controllers can be adversely affected by the inclusion of a sense resistor since the grounding of the controller is changed.
Continue reading this article?
COM_CONTENT_REGISTER_TO_READ_MORE_TEXT