[064] Flyback Development Part I - Specification and Circuit Design
Flyback design specifications and architecture.
Introduction
This article is the first of a series in which Dr. Ridley shows the steps involved in designing and building an offline flyback converter. The first part of the series presents the power supply architecture and schematic, including the control and bias circuits.
Flyback Power Converter
The offline flyback converter is a topology that is found in many applications. It serves as a bias supply for other power converter topologies, or as the main supply for low-power electronics systems, typically 50 W or less. The flyback is usually selected for the following reasons:
Low parts count
Single magnetic element
Single ground-referenced switch
Ease of generation of multiple outputs
The disadvantages of the flyback converter are pulsating input and output currents, and a voltage stress on the switch that exceeds the input voltage. At low power levels, these issues are less important than the flyback advantages.
Power Supply Requirements
The specifications for the power supply were as follows:
Input Voltage: 185 – 265 AC
Output 1: 15 VDC @ 1.4A isolated +/-10%
Output 2: 15 VDC @ 50 mA nonisolated (bias and regulation supply)
Maximum power: 22 W
Power Topology: Flyback
Controller: 384x Controller from Texas Instruments
The main output provides a relatively constant current, and the regulation range of 10% should be achievable through cross-regulation to the bias winding supply.
Block Diagram and Circuit Schematic
Figure 1 shows the block diagram of the flyback power converter with the control, bias, and power stage blocks. Both the power stage and the bias circuit are fed directly from the rectified ac input line.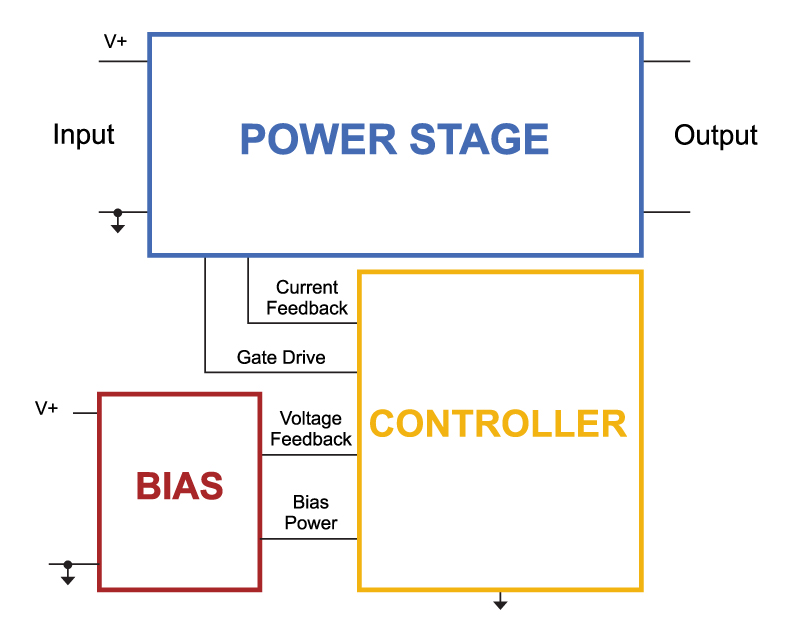 Figure 1: Three parts of a flyback converter – bias, control, and power stage with interconnect signals
The function of the bias supply is to provide the operating voltage to the control circuit, and to do this with minimal dissipation.
Continue reading this article?
COM_CONTENT_REGISTER_TO_READ_MORE_TEXT